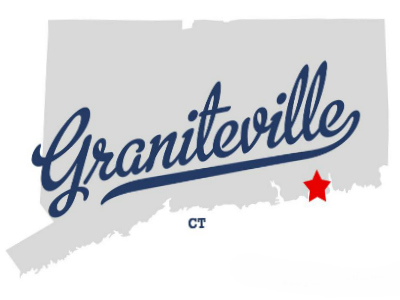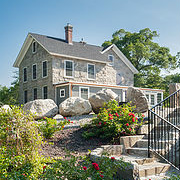 "Ranged along Rope Ferry Road (Route 156) in Waterford are a group of 31 houses and other buildings, predominantly plainly detailed and mid-19th century in origin. Nearly all the buildings were at one time associated with granite quarrying, formerly a major industry in Waterford. Since at least the 1860s the settlement has been known as "Graniteville, an appellation that also was applied to the residence of quarry-owner John B. Palmer. In addition to residential buildings, the Graniteville Historic District includes the ca.1878 two-room Graniteville School and three barns, including a simple small board-sided barn with an unusual stone end and a Gothic Revival-detailed barn with a cupola.
Most of the buildings are plain structures with little in the way of decorative architectural detail. Some date from ca.1800, before the granite industry took hold, and exhibit the three- or five-bay broad-side facade, center-chimney form common in vernacular New England architecture as far back as the Colonial period. The mid-19th century buildings mostly have their gable ends facing the road, and many of those also have little architectural embellishment. Others exhibit Greek Revival elements such as pilaster-and-lintel entrance treatments, full cornice returns, and corner pilasters. Two features normally associated with earlier Federal style architecture persisted in the gables of Waterford's Greek Revival period houses: fanlights and three-part windows simplified from the arched Palladian window. One house has exceptionally intricate porch detail of the type commonly referred to as Carpenter Gothic."
For more information on Graniteville see http://www.livingplaces.com/CT/New_London_County/W...